In the winter time here in Colorado when homes are heated and the air is dry, wood flooring gives up some of its moisture and contracts as a result. When this happens, thin gaps can appear between planks. This is normal, and a homeowner should be prepared for it to occur.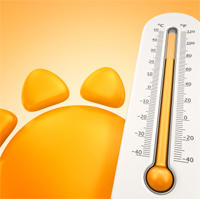 Once indoor heating is turned off in the spring and humidity levels rise again, most of the gaps will close up.
To avoid these separations, try to control and monitor air humidity levels during the dry season by installing a humidifier in the furnace or bringing a movable humidifier into the room that has good air circulation. Optimal humidity level falls in 45-60% range. As long as humidity does not fall lower than 45%, no gaps at all will appear between the planks. Installing a simple humidity meter will allow you to monitor and control humidity levels in your home all year round.